Dunston Activity Centre is a vibrant centre at the heart of the community of Dunston, offering a space for people to meet, socialise, exercise and learn new skills.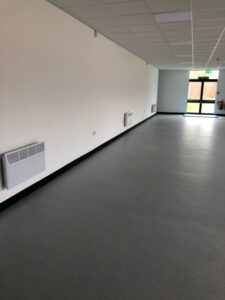 Although the centre is well used, unfortunately it has often has to turn new groups away due to a lack of available space.
Thanks to a funding from Biffa Award, as part of the Landfill Communities Fund, it can now create a third community room, opening up more opportunities for the community and accommodating new groups and activities.
As well as hosting a fully fitted gym and library, the centre is also used by a whole range of community groups including a companion group, exercise classes, martial arts groups, preschool activities, slimming groups, baby ballet and NHS cardio rehabilitation, blood donation and diabetes groups.
Edmund Nichols, Chair of Trustees:
"With the generous support of Biffa Award our local community will benefit greatly from the creation of a new community room at Dunston Activity Centre. We can now meet the demand for quality accommodation for new activities and community groups of all ages."
Brenda Clelland, Ward Councillor for Dunston and the Teams:
"I'm absolutely delighted to hear that Biffa Award has so kindly funded the creation of a new, useful community room. The creation of this room is a much-needed increase in space available and will help Dunston Activity Centre to remain at the heart of the local community, doing what it does best – helping local people stay physically fit and healthy, and offering activities and creative opportunities to nurture and support their mental health and wellbeing. The whole community will join me in saying a big thank you to Biffa Award."
Rachel Maidment, Biffa Award Grants Manager:
"It is so important that we keep investing in community buildings which provide a space for people to meet, socialise and learn new skills. It is great to have been able to fund the new community space at Dunston Activity Centre, enabling even more people to use this vital facility."