Greetham Jubilee Community Centre is a popular facility at the heart of the community. Its large hall is a sports hall with no windows and there is another room for meetings and parties. The centre is so popular that it is often fully-booked and another meeting room was needed.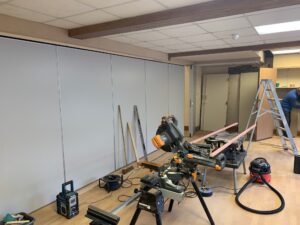 A £20,182 grant from Biffa Award, as part of the Landfill Communities Fund, means that windows can be installed at one end of the hall, creating a bright airy space filled with natural light. A new sliding acoustic wall means that the large hall will be able to be split into two spaces to accommodate more groups, increasing the rooms available at the centre to three. Work is currently underway.
The popular centre is currently home to various groups and clubs, including a baby sensory group, Special Needs youth group, badminton, table tennis, short mat bowls club, arts and craft sessions, community cafe and Women's Institute, as well as being used for private functions, meetings and community activities.
The work will mean that the centre will be able to be used to its full potential in future to benefit the whole community.
Linda Edward, Greetham Jubilee Community Centre Funding Coordinator, said: "This new room will make the centre even more suitable for the needs of the community. Our busy community centre is often booked but having another room means we can always accommodate everyone and build our community to be even stronger."
Rachel Maidment, Biffa Award Grants Manager, added: "It is so important that we keep investing in community buildings which provide a space for people to meet, socialise and learn new skills. It is great to have been able to fund the improvements at Greetham Jubilee Community Centre to provide a fit for purpose space for the community."