The ceremonial opening of Aerospace Bristol's new Conservation in Action Workshop marks the completion of the 106-year-old hangar's restoration, with museum staff and volunteers now preparing the new workshop to welcome visitors in August.
On July 15, 2021, HRH The Princess Royal visited Aerospace Bristol as the museum's Patron and formally opened the new Conservation in Action Workshop. Biffa Award Grants Manager Rachel Maidment and board member Simon Rutledge were also in attendance.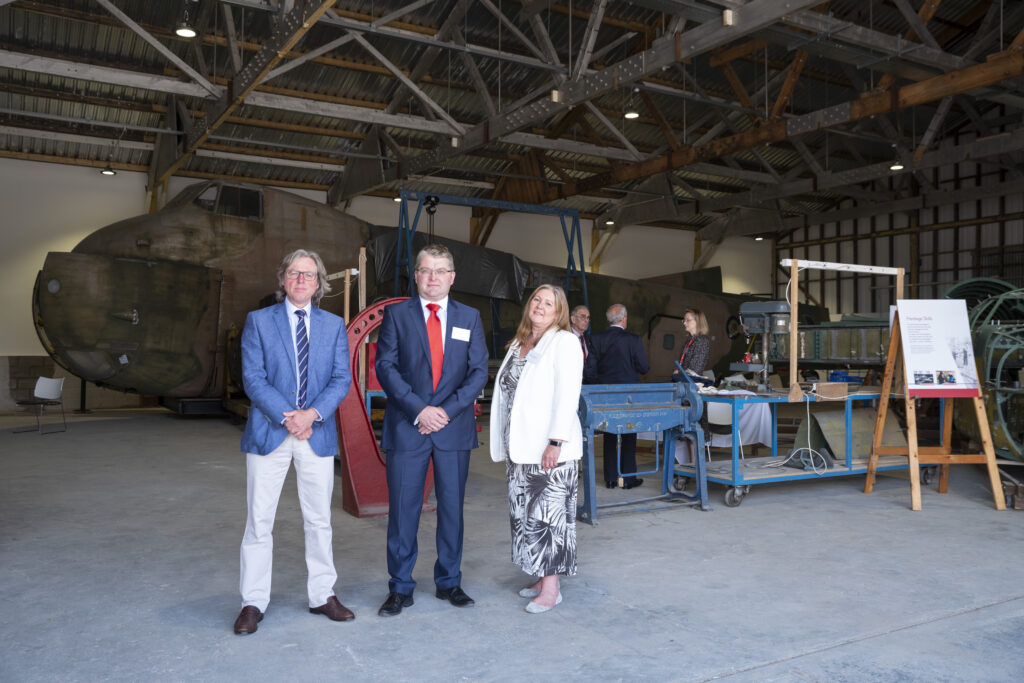 Situated in a restored Grade II listed WWI aircraft hangar, built around 1915, the latest addition to Aerospace Bristol will allow visitors to get up-close to conservation projects – including the Bristol Freighter, Fighter and Bolingbroke – and watch as volunteers work on historic Bristol aircraft.
The project was made possible thanks to a £547,277 Biffa Award Partnership Grant through its Built Environment theme.
Visitors to the workshop will discover tools and techniques used to manufacture aircraft and get a glimpse into life inside early aircraft factories. As part of the formal opening occasion, HRH The Princess Royal stamped a clocking-in card using one of the factory time clocks, which Filton's aircraft factory workers would have used to mark the start and end of their daily shifts.
After becoming the first person to clock-in to the new workshop, The Princess Royal was escorted on a tour by the museum's Chair, Professor Iain Gray, who introduced Her Royal Highness to supporters, donors, conservation volunteers and members of staff. The tour included conservation projects, archive materials relating to the hangar and the history of aerospace engineering in the region, and a demonstration of the English Wheel metalworking tool.
Professor Gray said: "I am most grateful to Her Royal Highness The Princess Royal, Patron of Aerospace Bristol, for so kindly accepting our invitation to formally open Aerospace Bristol's exciting new Conservation in Action Workshop. This wonderful new space will not only allow our fantastic team of volunteers to undertake crucial restoration work, and share their valuable knowledge and expertise with visitors, it will also enable the museum to further enhance our award-winning learning programme, providing new learning opportunities and invaluable hands-on experience to the next generation of engineering talent."
Rachel Maidment added: "Biffa Award is delighted to see this special project come to fruition. Since awarding funding to Aerospace Bristol through our Partnership Grants Scheme in 2018, we've seen this historic hangar transformed from a deteriorating, unused structure into the fit-for-purpose workshop we see today. It's exciting to think that young people, community groups and visitors will soon have access to new learning activities, be able to engage with local heritage and even get hands-on with conservation projects, while benefitting from the expert knowledge and vital heritage skills of Aerospace Bristol's volunteer team. It was a pleasure to be among the first visitors to see this fantastic facility in all its glory."
Before departing the museum, Her Royal Highness spoke to the volunteers, donors and museum staff who made the new workshop possible and unveiled a plaque to mark the occasion. The plaque will be displayed on a historic time clock at the entrance to the Conservation Workshop, alongside similar clocks sponsored by museum supporters.